.::when we r in love::.
April 2005
May 2005
July 2005
December 2005
April 2006
December 2006



To create your post:
1. log in to www.blogger.com
2. type in username:erika_chua password:erikachua
3. in the dashboard, click the green cross button
4. then start typing the title and body. dont forget to change the time and date sa baba, when done, click PUBLISH POST
5. after publishing is done, click sign out, then done. :)

load error
......l|l|l|l|l|l|l|l|l|l|l|l|......
This site is dedicated to our very own Batchmate Erika Theresa Kho Chua who had just passed away due to a Fire accident in their house..
Pls pray for her and her family's peace at Heaven..

sulat kyo ng dedication nyo for her, what you missed, and what you want to say for her..

pls dont talk shit, if u wanna talk shit, hanapin nyo c ryan, makipagbugbugan kayo dun, kayanin nyu siya, then talk shit. haha
respect the dead naman o...
un lng po.. thanks for the support.. we luv u Erika..

Cheers

~sophomores

to navigate the site, click the pix sa right hehehe :) un may heart n ung in loving mem..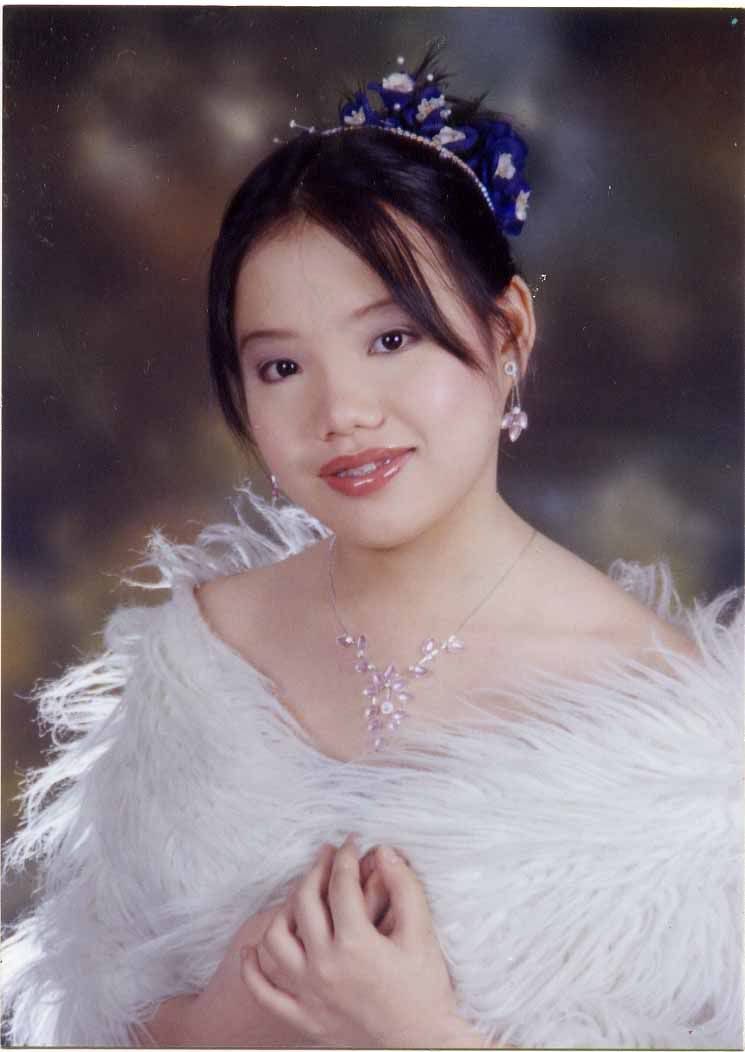 in loving meMorY...

Erika Theresa Kho Chua
December 8, 1989-April 20, 2005

.very great friend
.makulit
.mabait
.adorable


Friday, December 29, 2006

How do you pick up the threads of an old life? How do you go on, when in your heart, you begin to understand, there is no going back? There are some things that time cannot mend. Some hurts that go too deep...that have taken hold. -LOTR, Return of the King

miss you...

-kit
thinking of u~ on. x `

10:46 PM




Saturday, December 23, 2006






This terrible incident has made me realize how short life is & how precious a friend can be. I remember meeting Erika sa party nang friend kong si Loren. Loren introduced me kay Erika and w/o like hesitation grabe prang tagal na kaming magkakilala ni Erika. Sobrang kulet nya. Sobrang bait nya. Pero it was our first time meeting each other. May joke pa nga kaming 3 ni Erika me n Loren eh... si Erika si Britney Spears, si Loren si Alicia keys & ako si Missy Elliot. Tapos sa isang room nagsasayawan kami sa kama. Kahit nagmukha kaming mga ewan na sumasayaw ang saya saya. Sobrang saya tlga kasama sya. I remember I promised her that we will meet again after that party. (ok umiiyak na ako ngaun) Pero...this happend..
Well I won't say we won't be seeing each other ever again...we will all see her again sometime. To all that loved her, wag kau magaalala....and dyn pa sya in your hearts... hindi naman sya mawawala sa ating eh...momentary lang muna yan....pag nagkita kita na tau lahat sa langit edi masaya na ulit natin makakapiling si shobe. Pray nalng tau kay God for guidance and for comfort.
I have made an tribute post sa account ko sa blogspot...hope you could drop by and take a look www.crimson-avenue.blogspot.com thanks.... I'm working on an artwork dedicated kay Erika...I'll post it soon sa DeviantArt ko kung tapos na...

Erika shobe, I'll miss you. I won't let go of my promise. Magkikita pa din tau...


- Nicole Chen
thinking of u~ on. x `

8:54 PM




Sunday, April 23, 2006





Erika, I know we weren't close but your early departure really affected me. We all miss you, especially your close friends. We will see you again, someday. 'Til we meet again, Thank you for everything. I will be passing by your house everyday of my highschool life as soon as classes start. Don't forget to say hi to me when you see me pass by ok? I know I won't. See you up there! http://http://www.deviantart.com/deviation/17466975/
thinking of u~ on. x `

5:46 AM




Thursday, December 08, 2005





dmi ko pa nmn ssbhn syo pero bgo ko pa man nsbi iniwan mu na kmi...nvr even tot na dis wil hppen 2 u...nung umgng un cguro bnda 7 pmnta kmi ni ryan sa metro thinking na ur olredy safe pero naabutan lng nmin dun ay ang huanapo..kya pmnta nman kmi sa jose reyes pero la ka rin dun..by the tym we got back..natnung ni ryan dun sa isng tga gma kng cnu pa nsa loob...we saw ur nme...una nga cnsbi nmin na ur sfe..ntwa pa nga kmi nung tym na un kc rong spelling ung erika (remember ry? haha) pus prng everywhere kmi lumingon nririnig nmin na la na survivors dyn...pero we still nvr lose hope...we believe na u'll come out of there na buhay ka...bnda 9 nksma na nmin c lester...kausap ang tatay nya and hearing na may ngpkita dun sa building knina...our hopes were raised kc kla nmin kaw un at makakalabas k n pero later nlaman nmin na ahya mu pla un but stil naniwla prin kmi na mkksma mu prents at brothers mu na makakalabas..lumapit pa nga kmi dun e...pmnta pa kmi dun sa new haus nyo...but time quickly passed by...lumiliit na ung hope nmin but we still believed in u...nvr had we gven a chnce na makausap ka for the very last tym...sna mbgyn lng kht isa sa min ng kht 1 min or even juz a few sec na sbhn syo ung mga nais nmin...nung nlaman ko na u passed away...(fil ko prehas filing ntin ry) prng nwla part ng lyf ko kc i'll miss ung mga days na kukulitin mu ko dun sa bus..ung lgi mu kong pinapalo dun sa bus...ung pgbyebye ntin each and everytime na sby tyo bumaba nung bus..ung pagloloko ntin...asarasaran ntin..n most specially ung smyl sa face mu na nd nwwla..ur are a gr8 frnd..i nvr knew na u considered me as one of ur best frnds until dat day..i felt so hopeless na nandun lng kmi sa baba ng bahay mu na wlng mgwa kndi nktyo lng at ngdadasal...i knw na mas close mu c ry kc lgi mu ksma yan eh kya nmn sna gbayan mu nga yn may cra na yan (jk ry!)kc akalain mu man na 24 hrs na di kumain..ayy...it really might have been different kng nand2 ka lng ksma nmin ngyn..4 na araw na lng nga rin o..4 days nlng mgswim na tyo..kng lam mu lng kng gnu kaexcited c ryan na mgswim ka..lgi ka nga nya pngmamalki sa tutor kng san ngkikita kmi ng maaga pra lng mgusap..lagi ko pa nga yan niloloko sa nme n...****** (lam ko lam mu yan ry!! yan ung twg ko syo sa tutor kng ngtxt xa)..nxt yr pg akyat ko dun sa bus..nd ko mkkita ung swit smyl na lgi mu dla sa mukha mo...pg pnta sa skul..la ng mnghihiram skin ng earphones at cel ko..and i'll nvr 4get ung mga cnsbi at kinuwento mu skin dun sa pguwi mula sa splash kc ksma kita nghintay na bumaba mom mu pra buksan ung door nyo...cguro 30 mins tyo nktyo sa lbs noh? haha...and nvr have i tot na dat will be da last chnce na makakausap kita...all dos stories and tyms wid u ill cherish coz dos are d nly memories of me wid u..all i can say is juz be happy wherever u are and thank you 4 being a part of my lyf...now..about 4 days has passed n i hope na i2ng poem na 2 mgugs2han mu...
If I knew it would be the last time
That I'd see you fall asleep,
I would tuck you in more tightly
and pray the Lord, your soul to keep.
IIf I knew it would be the last time
that I see you walk out the door,
I would give you a hug
and call you back for one more.
If I knew it would be the last time
I'd hear your voice lifted up in praise,
I would video tape each action and word,
so I could play them back day after day.
If I knew it would be the last time,
I could spare an extra minute to stop and say "I miss you,"
instead of assuming you would KNOW I do.
If I knew it would be the last time
I would be there to share your day
Well I'm sure you'll have so many more,
so I can let just this one slip away.
For surely there's always tomorrow
to make up for an oversight,
and we always get a second chance
to make everything just right.
There will always be
another day to say "I miss you,"
And certainly there's another chance
to say our "Anything I can do?"
But just in case I might be wrong,
and today is all I get,
I'd like to say how much I love and miss you
and I hope we never forget.
Tomorrow is not promised to anyone,
young or old alike,
And today may be the last chance
you get to hold your loved one tight.
So if you're waiting for tomorrow,
why not do it today?
For if tomorrow never comes,
you'll surely regret the day,
That you didn't take that extra time for a smile, a hug, or a kiss
and you were too busy to grant someone,
what turned out to be their one last wish.
So hold your loved ones close today,
and whisper in their ear,
Tell them how much you love them
and that you'll always hold them dear
Take time to say "I'm sorry,"
"Please forgive me," "Thank you," or "It's okay."
And if tomorrow never comes,
you'll have no regrets about today.

Royce...
thinking of u~ on. x `

12:00 AM




Saturday, July 02, 2005





hey.. hope your fine up there.. i miss you and love so so so much.. can't explain how much.. i just hope you know.... tnx for the 9 years of kindness.. i will always remember you..dear friend .. know that you'll stay in my heart forever.. i can't believe you're gone... :'( i love you...
thinking of u~ on. x `

7:17 AM




Thursday, May 05, 2005





um, erika, tnx sa lahat ah. khit hndi kta nging kaklase kht papaano nging close rin naman tyo dahil kay sia. palagi ka nga nya kinukwento sakin eh. kaya nung nawala ka sobrang apektado kami. salamat dahil naniniwala ka sa relasyon namin. pg my problema kami ni sia sayo sya humuhingi ng advice..palagi mo sinasabi sa kanya na makipgayos na sya skn. para kang peacemaker..tnx talga.. naaalala ko pa nung pumunta kmi sa haus mo, naiwan ako nd we spent tym 2gder toking 4 awyl. kht sandali lng un, clear parin skin un. sabi ko nga sa sarili ko magkaksundo tyo eh. i wana knw u beter... pero.. um nauna ka na eh.. syang sbra. um.. san ka man ngayn sana msya ka.. di ka namin makakalimtan. lalo na smin ni sia. we love u..
thinking of u~ on. x `

8:07 PM




Wednesday, May 04, 2005





guys, lam nyo ba kng bkt my dear student yung title??? kc c erika naging student ko xa habang nagprapractice xa ng dance para sa audition nya sa dance troup...actually xa unang nagsabi skn ng 'teacher audrey' kya twg ko sa knya 'student erika'... habang tinuturuan ko nga xa naiinis na xa skn eh kc konting mali ulit from d top..tps kht matatapos na yung dans basta nagkamali xa ulit na nmn from d top... pero dahil sa mga pinaggagagawa kong yun napasok xa sa dt... panu ba kmi nagkakilala ni erika??? well, nung prep plng kmi magkakilala na kmi... tps nung grade 3-4 sumasayaw kmi sa mga classroom party... xa nga yung gumagawa ng dans b4 eh... pero hindi prn xa nagrereklamo...kht super kinukulit ko xa hindi xa nagagalit...ngayon nmng mga teenagers na kmi bait bait prn nya...pag aasarin mo xa ssbihin lng nya "eh...anu ba...haay naku.." tps tatawa na yan...lagi nga xa nakasmile eh...lam mo erika napanaginipan kita last night...nagpakita ka rw samin tps super saya pa ntn...super bad trip nga aku nung april 20 eh kc kakagising ko plng yun na agad yung news na narinig ko...haay...pero i hope kung asan ka man now sana masaya ka...be our angel ah! magkikita rin tayo dyan...miz yah student...luv yah...

thinking of u~ on. x `

10:08 PM



|ll|ll|l||ll||ll|l|ll|
allrightsreserve
ivyY.


.in loving memory.//..